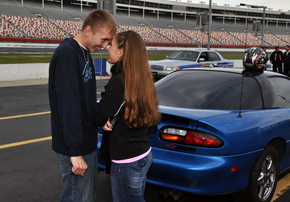 Matt Krueger, 19, was recovering from his first colon cancer surgery on the day he confessed his dream to a hospital nurse.
He wanted to get his 1999 Camaro Z28 out onto one of NASCAR's big tracks, to see if it would actually go the 155 mph promised on the speedometer.
What Krueger didn't realize, was that his nurse knew somebody at a tire store, who knew somebody at the Carquest Corp., who knew somebody at Lowe's Motor Speedway, who could make his dream come true.
And so it did. More
From: ThatsRacin.com
leftturns190